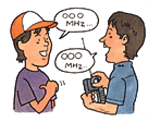 Never operate on a band already being used!
* Check if other models are being used in the area. Confirm that you are using a different band to others in the same area.
* Before switching your transmitter ON, confirm that your band is not being used by asking others around you.

Minimize damage from any potential emergency!
* You may be liable to pay reparations or compensation for any accident caused by your model. R/C insurance can help alleviate this burden.
* Consult with your model shop, and take out an insurance policy.
* If you are registered as an "R/C pilot", you already have liability insurance. There are also other benefits, so please enquire about insurance.