《Fuel》
As the piston rises and compresses the fuel/air mixture in the combustion chamber, the glow plug heats red and ignites the fuel and combustion occurs. The repetition of this cycle is the main characteristic of the glow engine. As the glow plug ignites automatically under compression during the cycle, no mechanism to govern ignition timing or spark generation is required as they are on a full sized gasoline engine. Glow fuel is designed with those characteristics. The quality of the fuel used has a large bearing on the power output from the engine. The Kyosho fuels shown in this catalogue combine the correct ingredients to deliver the best running or flight performance. For confidence in fuel performance, these fuels are recommended.

《Glow Plug and Heater, Booster Cable》
As mentioned elsewhere, glow plugs are a critical component of glow engines. For best performance, use a glow plug specified for your engine. When starting the engine, 1.2V - 1.5V of current is required to heat the glow plug. For this this reason, an electric power source and a booster cable attached to the plug are needed. Once the plug is heated, turning the crank shaft should start the engine. On most Kyosho GP model, the engines are fitted with a recoil starter so pulling on the cord will turn the crank to start the engine. After the engine has started and engine rotation is stable, the engine will continue to run even when the booster cords on the glow plug are disconnected.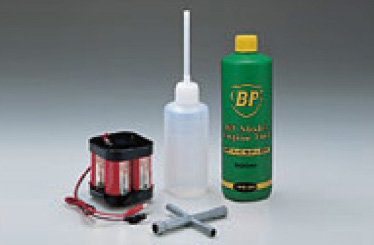 《Engine Starting Equipment》
Fuel bottle to fill the tank can also be used to get fuel into the carburettor, and a plug wrench needed for attaching/removing glow plug and locking the crank shaft, are required.