USING THE DRONE RACER SETTING MANAGER!
Change flying characteristics with model setting adjustments and additional functions!
You can add hidden additional functions to your DRONE RACER and receive other variable information by subscribing e-mail magazine!
Make full use of DRONE RACER! Please subscribe from here!
The Setting Manager allows easier on-screen adjustment of the standard model settings. It also opens up new, additional adjustments and personal settings that are not available without the use of the Setting Manager. This wider range of settings means the flying characteristics of the Drone Racer can now be more easily changed to suit the personal preferences of each pilot. The Setting Manager allows new functions to be activated after registration by entering in the POWER UP item codes. *The Setting Manager only works with the production version Drone Racer.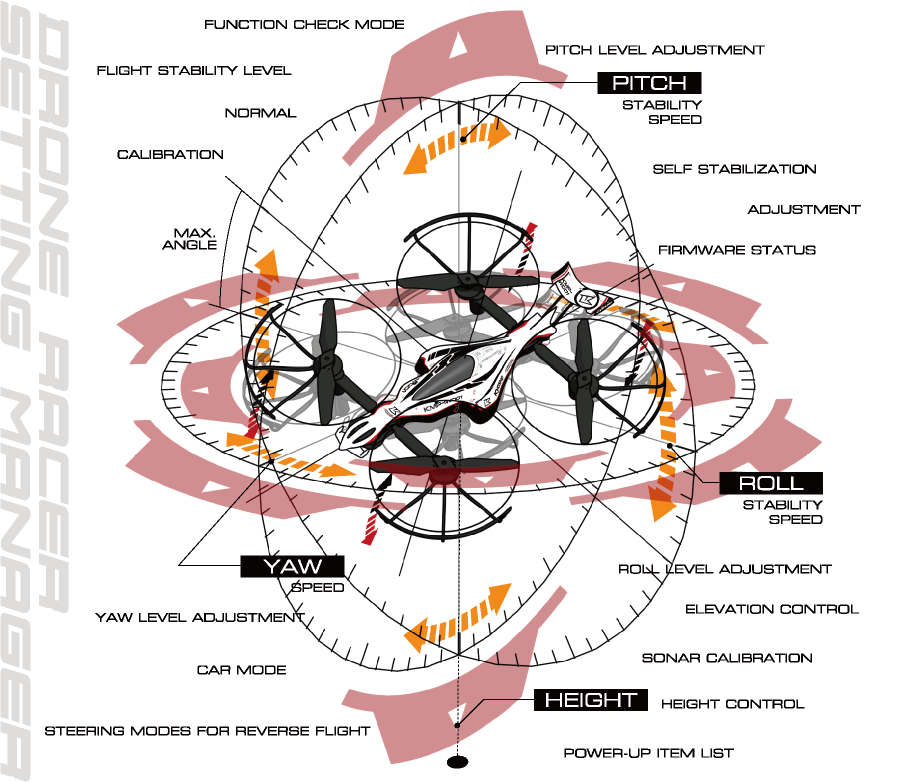 ---
Main Functions
User Registration
In addition to basic setting adjustments of the model, additional settings are available once user registration is complete. Also, the system allows new functions to be added with the input of POWER UP item codes as they become available.
Update information will be sent to the email address used for registration.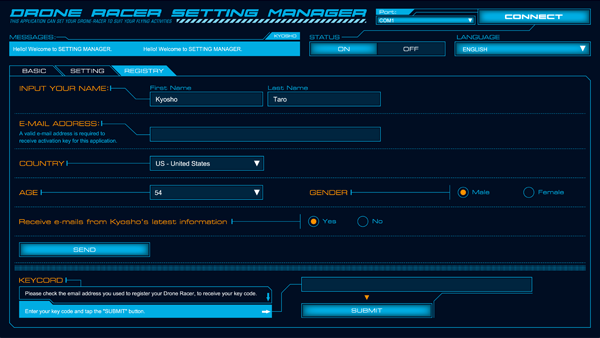 ---
POWER UP ITEMS

You can obtain Key Codes by completing user registration and also joining various events.
Enter the Key Codes on the REGISTRY tab (the same tab used for User Registration) to add POWER UP items and add new functions to the application.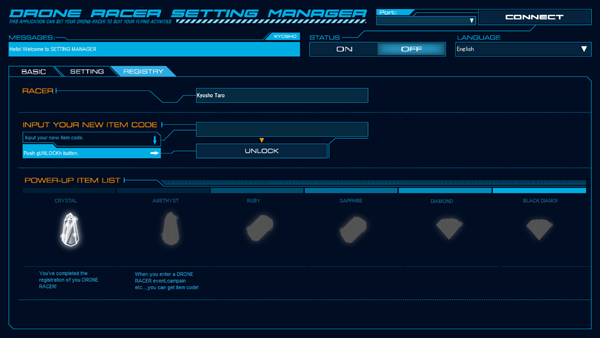 ---
BASIC Model Setting Adjustment

Make basic setting adjustments to adjust flying stability by using the BASIC tab. If the DRONE RACER doesn't move as you expect, check each menu item and adjust accordingly.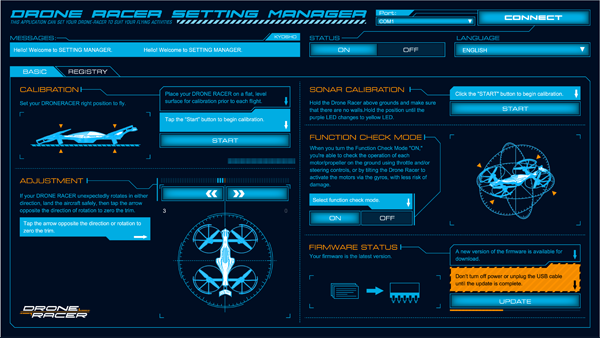 ---
Model Setting

Once you become familiar with controlling the DRONE RACER, you can increase speed and make quicker turns.
Control characteristics and straight-line speed can be adjusted by changing the setting parameters to suit the pilot's individual flying preferences.