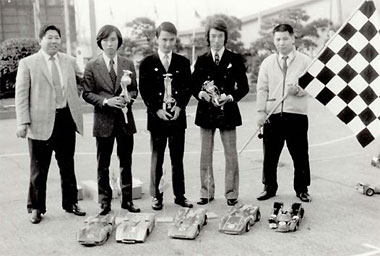 1971: The Kyosho DASH 1 is presented at an Aircraft Pageant at Harumi International Trade Center sponsored by Mitsuboshi Shoten. From the left: Mr. Hisashi Suzuki (Founding president of Kyosho), Mr. Harukuni Takahashi (Toyota - TMSC), Mr. Tachio Yonemura (Isuzu) and Mr. Yasushi Toshimori (Nissan Omori). Three professional racing drivers were invited to run the DASH 1.

What was the first Japanese RC car ever produced? It is now 40 years since Kyosho started business and it was in 1970 that Kyosho started selling the DASH 1. Lets take a look back in time to see the birth of the DASH 1, generally agreed by the industry to be the first RC car made in Japan.

Radio control (RC) spread through the model market from the about 1960, after the Tokyo Olympics. Still regarded as luxury items, most equipment and attention was focussed on model aircraft. Many people still dreamt if RC could be adapted to an engine powered car, but there were no manufacturers to develop this into reality.

There was one person took the action necessary to bring this dream to life. This was Kyosho's founder, Mr. Hisashi Suzuki (then President of Kyosho). According to Mr. Naohiko Otsuki (President of Automodel) the almost single-handed developer of the DASH 1, it was Mr. H. Suzuki who brought up the idea.

At that time, Mr. H. Suzuki was working in and out of the U.S. Army base in Tachikawa for the import and export of toys. Through the U.S. Army, he was able to acquire the latest engine powered models available. In 1969, conscription and the Vietnam war saw many soldiers in Japan with strong interests in RC models.

Now, as seen in the photograph, the four bare-chassis were sophisticated non-RC midget cars, and could not be considered as originally designed as RC cars. When Mr. H. Suzuki showed these four models to Mr. Otsuki with the proclamation "look what's out there now", it was the very beginning of something special.





According to Mr. Otsuki, the only really useful point of reference from the American models was the centrifugal clutch in one of the models. Basically, the board track and control line type American cars were very different from RC cars, so there wasn't really anything else to learn from them.

Even in Japan, a company called RIKEN had produced a hand-made control line midget car about one year earlier (kit price was 12,000 Yen, with airplane tires). But a centrifugal clutch wasn't included on the RIKEN midget car, just direct engine contact.

Mr. Otsuki says at first he didn't know what a centrifugal clutch was. Originally, Mr. Otsuki worked at one of Japan's automobile parts manufacturers so he had a strong understanding of car mechanics. Mr. Otsuki couldn't think of a simpler clutch type than the cone-clutch, but he decided to disassemble the automatic centrifugal clutch on his Honda Cub. But the Cub's was a multi-board clutch and didn't provide much insight. A prototype cone clutch was also made, but in the end, an internal expansion-type drum centrifugal clutch was the final result. In the beginning, Bakelite was cast and the drum was machined from "muku" steel (uniform steel).

About six months after trials began, the first prototype shown in the photograph was produced. At this time, the engine was almost horizontal with a front angle. The engine was fixed directly to the chassis to allow engine heat to dissipate and to give a lower center of gravity.

However, this engine-mounting layout was not so good for maintenance and although the idea was innovative, it was not applied. Also, the gentle "S" shape and twin exhaust pipe would be well remembered in the real racing cars of the day.

Mr. Otsuki's detailed appreciation of real racers was obvious, even in the wheels. The 5-spoke diecast aluminum wheels were modelled on the Nissan R382 of that time. More than just modelled, they were replicas. A big fan of the R382, Mr. Otsuki says he telephoned Nissan public relations department and soon received the diagrams (3-D design illustrations) for the actual R382 wheels. The three body styles chosen were the most popular racing machines in the Japanese Grand Prix: Porsche 917, Lola T70 and the McLaren Elba. The bodies were vacuum molded, a totally new innovation in RC at the time. Mr. H. Suzuki was the one who set about looking for a vacuum molding factory.

The difficult issue of a radio system was covered by the Futaba 4 Channel. The leader in this field at the time was an American company called Orbit, but Futaba was already selling top-class products as well. Another Japanese manufacturer: Hinode Denko, made the "Single Radio" for boats, but it was not suitable for providing the precision control needed.

Futaba's 4 Channel, two-stick radio for airplanes was a little too extravagant for cars. Futaba also had a 1-stick 2-channel radio for boats, but engine control and rudder operation were from the same stick. This made it quite difficult to adapt for use with RC cars.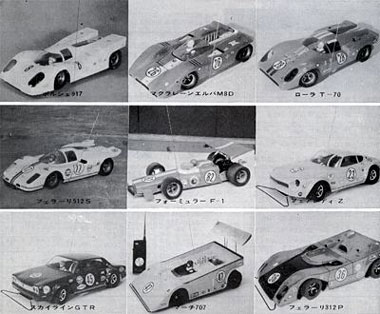 In October 1970, Kyosho demonstrated its three completed prototypes in front of industry members. The venue selected for the demonstration was the parking lot of the Kokuritsu Gekijo in Miyakezaka Tokyo. As Mr. Otsuki was so focussed on running the cars for the first time in front of an audience, he can't remember the day clearly.
20~30 attended the demonstration - in the rain. Everyone was amazed at the speed generated by the cars. They were just like full-sized racing cars: powerful acceleration, exhaust smoke and sound too. "What is the maximum speed?" everyone was so excited to know. In the unrelenting rain, the 1/8 scale 30cm wheelbase prototype car made a one meter splash, and landed a place in history. This was the birth of RC cars in Japan.
The DASH 1 was released for sale one month later, and created a storm of interest all over Japan. Motorsport was experiencing a boom, and Japanese car-makers were putting a lot of effort into developing their racing reputations. This was the golden age of Japanese motorsport. The DASH 1's realistic style and speed were received with great appreciation from motorsport fans at its release.
It was also the first in its field to use TV advertising. Airing only once daily at 11:00 at night, modelling fans were still absolutely delighted.
The DASH 1 was priced at 23,000 Yen without engine. As shown in the photograph, the body line-up of seven went from the Porsche 917 to the Skyline GTR. Engines used were still the imported 19-class VECO (West Germany) and K&B (U.S.A.) marine engines with a Perry Carburettor and Kyosho's Fuel Stopper and a car muffler.
The DASH 1 also included nylon nuts to prevent nuts loosening. As these were the latest technology used in aircraft, they weren't available in Japan yet. This made them very expensive so Mr. Otsuki says they decided to use nylon nuts in about ten areas where they were absolutely necessary. Now we have products like screw lock so these problems don't have to be overcome, but back then these had to be managed by Mr. Otsuki himself.
According to Mr. Otsuki, the thing that made the DASH 1 such a hit, were the wheels. Even full-size car fanatics were full of praise for the workmanship. Some even said they slept with them under their pillows. You could say that this was also due to Nissan's generosity and help.
One year later (1971), the DASH 2 targeted at beginners (price: 16,500 Yen) was released. The DASH 1 used a two-piece chassis, but the DASH 2 had a one-piece chassis and the engine was only at a slight front angle. In addition, the SUPER DASH (price: 26,000 Yen) was released as a competition level machine.
In 1971, the Japan Model Racing Car Association (JMRCA) was established, and the first Kyosho Championship for 1/8 scale racing cars was held at a specially constructed race course at Fuji Speedway. The winner received a trip to Hawaii. From this point, Kyosho cars and racing have evolved to where we are today. In 1972, the DASH 3 and the DUNE BUGGY were released, starting the buggy racing phenomenon.
When talking about the time of the DASH 1, its impossible not to mentioned the Kyosho Bell Star 220 radio system. This was the first ever wheel-type transmitter developed, and is still the main type of transmitter used for RC cars today.
At the time, only stick-type transmitters for airplanes existed. So RC car racers were forced to use stick-type transmitters. Mr. H. Suzuki wondered why stick transmitters were used to control RC cars, and started development of the Bell Star almost straight away.
However, the Bell Star was ahead of its time and wasn't accepted by consumers. There were some problems with durability, and it developed a negative reputation. However this was when electronic equipment makers had just started producing RC systems, so problems were widespread at the time.
Now every RC company has a wheel-type transmitter, but developing and releasing a new age innovative product back in those days was a very courageous thing indeed. Mr. H. Suzuki was a big innovator of this generation in RC. Even in RC systems for cars, he was a true pioneer. (to be continued).